Electric smelter
Jump to navigation
Jump to search
Electric smelter

Extracts usable metal from slag chunks and other mixed metal items. Consumes a lot of power.
Base Stats
Type

Mass

20 kg

HP

180

Flammability

100%

Path Cost

50
Building
Size

3 × 1

Minifiable

True

Placeable

True

Passability

pass through only

Cover Effectiveness

50%

Blocks Wind

False

Terrain Affordance

Heavy

Power

-700 W

Light Radius

3.44

Heat Per Second

9
Creation
Required Research

Skill Required

Work To Make

3,500 ticks (58.33 secs)
Technical
thingCategories

BuildingsProduction
The electric smelter is a production building used to extract steel from steel slag chunks and metal weapons and armor. Colonists assigned to crafting will make use of it.
Acquisition
[
edit
]
Electric smelters can be constructed once the Electricity research project has been completed. They require

 170 Steel,
 2 Components, 3,500 ticks (58.33 secs) of work, and a Construction skill of 4.
Summary
[
edit
]
| | |
| --- | --- |
| | This section is a stub. You can help RimWorld Wiki by expanding it. Reason: Full list of bills, clearly differentiated and with their mechanics outlined, with work values. |
Electric smelters are placed on the ground and require 700 W of power. The smelter has gizmos for Designating toggle power and Reconnecting the power supply between circuits just like many other electric appliances, to aid in managing its high power needs. Powered electric smelters can convert steel slag chunks, metal weapons, and metallic armor pieces into usable metal. Smelting Speed is not affected by skills but can be increased by manipulation and Global Work Speed.
While powered, smelters output light in a 6 tile radius; the nearest 3.442 tiles are above 50% light level and considered "lit", negating the work speed penalty from darkness. Smelters also produce heat while in process of smelting things (amount comparable to output of one heater). No heat is produced when idle, even if powered on.
Steel slag chunks are melted into

 15 steel after 400 ticks (6.67 secs) of work via a work bill.
Most metallic weapons and armor can be smelted to return 25% of the stuff needed to craft them, minus any components, advanced components, or chemfuel, after 1,600 ticks (26.67 secs) of work. Smelting will convert the same items to the same materials, regardless of quality, damage, HP, biocoding, or tainting.
The smelter also has bills to Destroy weapons and apparel which works even for nonmetallic items, although no materials are returned.
Analysis
[
edit
]
Smelters are undoubtedly useful for steel slag chunks, tainted clothes, and biocoded weapons, which are all outright unsellable. Meanwhile, damage will quickly reduce the value of an item, so you could receive more silver by smelting. When making smelting bill(s), take these factors into account.
Destroying items is rarely worth it. The destroy bill can help get rid of unsmeltable items like cloth apparel and stone clubs. However, most of them can be sold for silver, which brings a little profit (as opposed to none at all). It has some use in wealth management, though you can also create a caravan and drop items on the world map, destroying them all the same.
As smelting is unaffected by skill, the fastest smelters are those with bionic arms (or better), or have work speed modifying traits like Industrious.
Sell vs Smelt
[
edit
]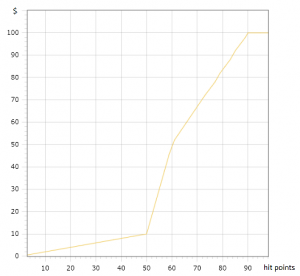 For items that you can both sell and smelt, the table below describes the sale value (excluding sell/buy penalties and pawn trade skill) of the items at each quality, alongside the value of the raw resources that can be attained by smelting. Items made of different kinds of stuff do not have data. In parenthesis are the hit point percentages at which the item's value is equal to that of the raw resources. Above this percentage it is better to sell the item, where as below the percentage it is better to sell the raw resources. Note that this only considers selling each, so the cost to buy the same raw resources is not included.
In general, very damaged items are better to smelt (under 60% health remaining, the value of an item drops rapidly after 60 percent), as the sale price is reduced while the amount of resources recovered are unaffected. Note that items with 90% or more health remaining retain full value.
Sell vs Smelt table
[
edit
]
| Name | Material Return | Material Value | Awful Sale Value | Poor Sale Value | Normal Sale Value | Good Sale Value | Excellent Sale Value | Masterwork Sale Value | Legendary Sale Value |
| --- | --- | --- | --- | --- | --- | --- | --- | --- | --- |
| Steel slag chunk |  15 | 28.5 | 0 | 0 | 0 | 0 | 0 | 0 | 0 |
| Gladius |  12 (125*) | ? | ? | ? | ? | ? | ? | ? | ? |
| Longsword |  25 (250*) | ? | ? | ? | ? | ? | ? | ? | ? |
| Knife |  7 (75*) | ? | ? | ? | ? | ? | ? | ? | ? |
| Ikwa |  13 (125*) | ? | ? | ? | ? | ? | ? | ? | ? |
| Spear |  19 (188*) | ? | ? | ? | ? | ? | ? | ? | ? |
| Mace |  13 (125*) | ? | ? | ? | ? | ? | ? | ? | ? |
| Club |  10 (100*) | ? | - | - | ? | - | - | - | - |
| Axe |  13 (125*) | ? | ? | ? | ? | ? | ? | ? | ? |
| Warhammer |  37 (375*) | ? | ? | ? | ? | ? | ? | ? | ? |
| Autopistol |  7 | 13.3 | 14 (87%) | 20.8 (68.4%) | 27.8 (59.5%) | 34.8 (57.1%) | 42 (55.4%) | 69 (52.3%) | 139 (47.8%) |
| Revolver |  7 | 13.3 | 13.6 (88.7%) | 20.2 (69.5%) | 27 (59.8%) | 33.8 (57.3%) | 40 (55.8%) | 67 (52.5%) | 135 (49.3%) |
| Pump shotgun |  15 | 28.5 | 25.6 (never) | 38.2 (74.8%) | 51 (63.5%) | 64 (58.6%) | 76 (56.9%) | 127 (53.1%) | 255 (50.3%) |
| Machine pistol |  11 | 20.9 | 22 (87%) | 33 (68%) | 44 (59.4%) | 55 (57%) | 66 (55.4%) | 110 (52.3%) | 220 (47.5%) |
| Bolt-action rifle |  15 | 28.5 | 25.6 (never) | 38.2 (74.8%) | 51 (63.5%) | 64 (58.6%) | 76 (56.9%) | 127 (53.1%) | 255 (50.3%) |
| Assault rifle |  15 | 28.5 | 48 (65.6%) | 72 (57.4%) | 96 (54.9%) | 120 (53.4%) | 144 (52.4%) | 240 (50.5%) | 480 (29.7%) |
| Sniper rifle |  15 | 28.5 | 53 (62.3%) | 79 (56.5%) | 106 (54.2%) | 132 (52.9%) | 159 (52%) | 265 (50.2%) | 530 (26.9%) |
| LMG |  19 | 36.1 | 42 (81.6%) | 64 (63.8%) | 85 (58.1%) | 106 (56%) | 127 (54.6%) | 212 (51.8%) | 425 (42.5%) |
| Heavy SMG |  19 | 36.1 | 35.6 (never) | 53 (70.9%) | 71 (60.5%) | 89 (57.6%) | 106 (56%) | 177 (52.6%) | 355 (50%) |
| EMP grenades |  10 | 19 | - | - | 63 (55%) | - | - | - | - |
| Chain shotgun |  18 | 34.2 | 40 (81.3%) | 61 (63.6%) | 81 (58.1%) | 101 (56%) | 121 (54.6%) | 202 (51.7%) | 405 (42.2%) |
| Minigun |  40 | 76 | 116 (69.3%) | 174 (58.4%) | 232 (55.7%) | 290 (54.1%) | 348 (53%) | 580 (50.8%) | 832 (45.7%) |
| Incendiary launcher |  19 | 36.1 | 34 (never) | 51 (72.5%) | 68 (61.9%) | 85 (58.1%) | 102 (56.3%) | 170 (52.8%) | 340 (50.2%) |
| EMP launcher |  19 | 36.1 | 50 (73.3%) | 76 (59.4%) | 101 (56.4%) | 126 (54.7%) | 151 (53.5%) | 252 (51.1%) | 505 (35.7%) |
| Smoke launcher |  19 | 36.1 | 38 (87%) | 57 (68%) | 76 (59.4%) | 95 (57%) | 114 (55.4%) | 190 (52.3%) | 380 (47.5%) |
| Charge rifle |  13 | 117 | 101 (never) | 151 (76.5%) | 202 (64.8%) | 252 (59.1%) | 303 (57.2%) | 505 (53.3%) | 802 (51.1%) |
| Charge lance |  15 | 135 | 135 (90%) | 203 (69.9%) | 271 (60%) | 339 (57.5%) | 406 (55.8%) | 671 (52.5%) | 871 (51.4%) |
| Shield belt |  12 +  5 | 67.8 | 68 (89.8%) | 101 (70.3%) | 135 (60.1%) | 169 (57.5%) | 200 (56%) | 335 (52.6%) | 675 (50%) |
| Simple helmet |  10 (100*) | ? | ? | ? | ? | ? | ? | ? | ? |
| Flak helmet |  10 (100*) +  2 | ? + 18 | ? | ? | ? | ? | ? | ? | ? |
| Recon helmet |  8 | 72 | 260 (54.4%) | 395 (52.1%) | 525 (50.9%) | 655 (50.2%) | 785 (45.9%) | 1310 (27.5%) | 2625 (13.7%) |
| Marine helmet |  10 | 90 | 315 (54.6%) | 475 (52.2%) | 635 (51%) | 795 (50.3%) | 950 (47.4%) | 1585 (28.4%) | 3175 (14.2%) |
| Cataphract helmet |  13 | 117 | 370 (55.4%) | 560 (52.7%) | 745 (51.4%) | 930 (50.6%) | 1115 (50.1%) | 1860 (31.5%) | 3725 (15.7%) |
| Prestige recon helmet |  10 +  3 +  1 | 118 | 355 (55.8%) | 535 (53%) | 715 (51.6%) | 895 (50.8%) | 1070 (50.3%) | 1785 (33.1%) | 3575 (16.5%) |
| Prestige marine helmet |  13 +  5 +  2 | 167 | 425 (57.3%) | 635 (54.1%) | 850 (52.4%) | 1060 (51.4%) | 1275 (50.8%) | 2125 (39.3%) | 3850 (21.7%) |
| Prestige cataphract helmet |  19 +  12 +  2 | 263 | 575 (58.9%) | 865 (55.1%) | 1155 (53.2%) | 1445 (52.1%) | 1730 (51.3%) | 2885 (45.6%) | 4155 (31.6%) |
| Plate armor |  43 (425*) | ? | ? | ? | ? | ? | ? | ? | ? |
| Flak vest |  15 +  8 | 40.5 | 113 (56.5%) | 169 (53.5%) | 225 (52%) | 280 (51.1%) | 335 (50.5%) | 560 (36.2%) | 1125 (18%) |
| Flak pants |  15 +  7 | 39 | 113 (56.1%) | 169 (53.3%) | 225 (51.8%) | 280 (51%) | 335 (50.4%) | 560 (34.8%) | 1125 (17.3%) |
| Flak jacket |  17 +  13 | 51.8 | 145 (56.4%) | 215 (53.5%) | 290 (52%) | 360 (51.1%) | 435 (50.5%) | 725 (35.7%) | 1450 (17.9%) |
| Recon armor |  20 +  3 | 198 | 770 (53.9%) | 1155 (51.8%) | 1540 (50.7%) | 1925 (50.1%) | 2310 (42.9%) | 3540 (28%) | 4540 (21.8%) |
| Marine armor |  25 +  5 | 255 | 1015 (53.8%) | 1525 (51.7%) | 2035 (50.6%) | 2535 (50%) | 3035 (42%) | 4035 (31.6%) | 5035 (25.3%) |
| Cataphract armor |  37 +  13 | 411 | 1560 (54.1%) | 2340 (51.9%) | 3120 (50.8%) | 3620 (50.3%) | 4120 (49.9%) | 5120 (40.1%) | 6120 (33.6%) |
| Prestige recon armor |  25 +  3 +  3 | 273 | 985 (54.4%) | 1480 (52.1%) | 1975 (51%) | 2470 (50.3%) | 2960 (46.1%) | 3975 (34.3%) | 4975 (27.4%) |
| Prestige marine armor |  30 +  5 +  3 | 411 | 1265 (55.6%) | 1895 (52.9%) | 2530 (51.6%) | 3030 (50.9%) | 3530 (50.4%) | 4530 (45.4%) | 5530 (37.2%) |
| Prestige cataphract armor |  48 +  12 +  4 | 544 | 1965 (54.4%) | 2945 (52.1%) | 3930 (51%) | 4430 (50.6%) | 4930 (50.3%) | 5930 (45.9%) | 6930 (39.2%) |
| Locust armor |  30 +  3 | 288 | 1965 (51.2%) | 2945 (48.9%) | 3930 (36.6%) | 4430 (32.5%) | 4930 (29.2%) | 5930 (24.3%) | 6930 (20.8%) |
| Grenadier armor |  25 +  5 +  19 | 291.1 | 1150 (53.8%) | 1730 (51.7%) | 2305 (50.7%) | 2805 (50.1%) | 3305 (44%) | 4305 (33.8%) | 5305 (27.4%) |
| Phoenix armor |  38 +  12 +  18 | 448.2 | 1740 (53.9%) | 2610 (51.8%) | 3480 (50.7%) | 3980 (50.3%) | 4480 (50%) | 5480 (40.9%) | 6480 (34.6%) |
| Visage mask |  4 | ? | ? | ? | ? | ? | ? | ? | ? |
* return for small materials (gold, silver)