Alpaca
Jump to navigation
Jump to search
Alpaca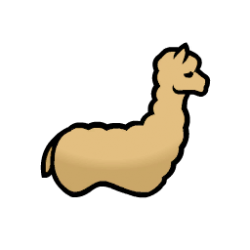 A medium-sized ungulate closely related to the llama, the alpaca is usually raised for its remarkably soft and insulating wool. Alpacas have also been used as pack animals since they hauled cargo on the rugged mountain trails of ancient South America.
Base Stats
Type

Flammability

70%
Pawn Stats
Move Speed

4.1 c/s

Health Scale

1

Body Size

1

Mass - Baby

12 kg

Mass - Juvenile

30 kg

Mass - Adult

60 kg

Pack Capacity

35 kg

Carrying Capacity

75 kg

Filth Rate

16

Hunger Rate

0.44 Nutrition/Day

Diet

herbivorous

Life Expectancy

15

Manhunter Chance

0%

Manhunter Chance (Taming)

0%

Trainable Intelligence

none

Wildness

25%

Minimum Handling Skill

1

Roam Interval

3 days

Mate Interval

12 hours

Maturity Age

0.333 years (20 days)

Juvenile Age

0.2 years (12 days)

Comfortable Temp Range

-20 °C – 45 °C (-4 °F – 113 °F)
Production
Meat Yield

140 alpaca meat

Leather Yield

40 camelhide

Wool Amount

45 alpaca wool

Shearing Interval

10 days

Gestation Period

6.66 days

Offspring Per Birth

1
Melee Combat
Attack 1

front left leg
7.3 dmg (Blunt)
11% AP
2 second cooldown

Attack 2

front left leg
7.3 dmg (Poke)
11% AP
2 second cooldown

Attack 3

front right leg
7.3 dmg (Blunt)
11% AP
2 second cooldown

Attack 4

front right leg
7.3 dmg (Poke)
11% AP
2 second cooldown

Attack 5

teeth
8 dmg (Bite)
12% AP
2 second cooldown

Attack 6

head
7 dmg (Blunt)
10% AP
2 second cooldown

Average DPS

2.28
Technical
tradeTags

AnimalFarm, AnimalCommon
Alpacas are easily tameable herbivores with a medium movement speed. An alpaca will increase the carrying capacity of any caravan it's part of by 35 kg. While it noticeably has the worst carrying capacity of any pack animal (less than half average), it's quite easy to tame and produces wool.
Obtaining
Alpacas can be found in temperate forests, temperate swamps, tropical rainforests, and tropical swamps. They can either be tamed by a handler or self-tame in a random event.
Alpacas can be bought and sold in other faction bases and from bulk goods traders. Alpacas purchased from traders will be already tamed.
Production
Alpacas can be sheared by animal handlers once every 10 days, giving 45 pieces of alpaca wool worth 171 silver. The ease of maintaining alpacas makes it a cheap source of decent quality wool for your colony.
See animal products for more details on how much each type of animal produces.
Training
This animal can be trained as follows:
| | |
| --- | --- |
| Guard: |   |
| Attack: |   |
| Rescue: |   |
| Haul: |   |
*As of version 1.1.2610, all animals can be tamed. The percentage of likelihood of success depends on factors such as the Animals Wildness Percentage, Pawn Handling Skill, and others. More information can be found on the animals page.
Health
Body part
Health
Head
25
Skull
25
Brain
10
Nose
10
Neck
25
Jaw
20
Eye [1]
(left, right)
10
Ear
(left, right)
10
Body
40
Kidney[2]
(left, right)
15
Lung[2]
(left, right)
15
Liver[2]
20
Heart[2]
15
Spine[2]
25
Stomach[2]
20

Limbs


(left, right, fore, hind)
30

Appendage


(left, right, fore, hind)
20
Gallery
Version history
0.12.906 - Can now be shorn for wool
Beta 19/1.0 - move speed 3.8 -> 3.2, leg damage 7 -> 6
Version 1.3 - Animal Overhaul
---