Monkey
Jump to navigation
Jump to search
Monkey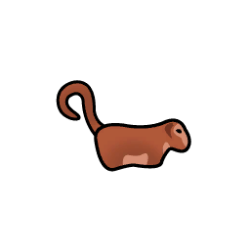 A small primate, the monkey can use its curly tail to grab on to branches, leaving its hands free to do other things. Monkeys are selfish but clever, and can be trained to carry out fairly complex tasks.
---
Base Stats
Pawn Stats
Move Speed

4.3

Mass - Young

4.9 kg

Mass - Juvenile

12.25 kg

Mass - Adult

24.5 kg

Health Scale

0.45

Body Size

0.35

Carrying Capacity

26

Filth Rate

0.22

Hunger Rate

0.4

Diet

omnivorous

Life Expectancy

30

Manhunter Chance

2%

Manhunter Chance (Taming)

1.3%

Trainable Intelligence

advanced

Wildness

60%

Minimum Handling Skill

5

Nuzzle Interval

1 day

Maturity Age

0.4 years (24 days)

Comfortable Temp Range

-5°C - 50°C
Production
Meat Yield

32 monkey meat

Leather Yield

18 lightleather

Gestation Period

16 days

Offspring Per Birth

1
Melee Combat
Monkeys are omnivorous primates which live in the tropical rainforest.
Taming
Their small size and relatively low damage caused by the monkey makes them ill-suited for life as a domesticated animals, as they can neither haul nor fight particularly well. They do produce an almost half a stack of meat when butchered, making them better targets for your hunters rather than your tamers.
Training
This animal can be trained as follows:
| | |
| --- | --- |
| Guard: |   |
| Attack: |   |
| Rescue: |   |
| Haul: |   |
*As of version 1.1.2610, all animals can be tamed. The percentage of likelihood of success depends on factors such as the Animals Wildness Percentage, Pawn Handling Skill, and others. More information can be found on the Animals#Animal_husbandry page.
Health
Body part
Health
Head
11
Skull
11
Brain
5
Nose
5
Neck
11
Jaw
9
Eye [1]
(left, right)
5
Ear
(left, right)
5
Body
18
Kidney[2]
(left, right)
7
Lung[2]
(left, right)
7
Liver[2]
9
Heart[2]
7
Spine[2]
11
Stomach[2]
9

Limbs


(left, right, fore, hind)
14

Appendage


(left, right, fore, hind)
9
Version History
---