Labrador retriever
Jump to navigation
Jump to search
Labrador retriever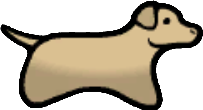 A very versatile, medium-sized dog. Originally bred to retrieve birds shot on the hunt, the lab is also an excellent guard dog, play pal, and family friend.
Base Stats
Type

Flammability

70%
Pawn Stats
Move Speed

5 c/s

Health Scale

1

Body Size

0.75

Mass - Baby

9 kg

Mass - Juvenile

22.5 kg

Mass - Adult

45 kg

Carrying Capacity

56 kg

Filth Rate

1

Hunger Rate

0.64 Nutrition/Day

Diet

omnivorous and ovivorous

Life Expectancy

12

Manhunter Chance

0%

Manhunter Chance (Taming)

0%

Trainable Intelligence

advanced

Wildness

0%

Nuzzle Interval

12 hours

Mate Interval

12 hours

Maturity Age

0.5 years (30 days)

Juvenile Age

0.25 years (15 days)

Comfortable Temp Range

-30 °C – 40 °C (-22 °F – 104 °F)
Production
Meat Yield

Leather Yield

33 dog leather

Gestation Period

10 days

Offspring Per Birth

1-3 (1.937 avg)
Melee Combat
Attack 1

front left paw
8.5 dmg (Scratch)
13% AP
2 second cooldown

Attack 2

front right paw
8.5 dmg (Scratch)
13% AP
2 second cooldown

Attack 3

teeth
14.2 dmg (Bite)
21% AP
2.6 second cooldown

Attack 4

head
5 dmg (Blunt)
7% AP
2 second cooldown

Average DPS

2.55
Technical
tradeTags

AnimalPet, AnimalCommon
Labrador retrievers are a species of highly trainable breed of canine. They are sometimes selected as the starter animal.
Analysis
Labrador retrievers are notable for not having a minimum skill level to handle or tame. This, their hauling ability, and lack of tameness decay make them strong candidates for hauler animals. Compared to the Husky, a Labrador is less combat effective (2.55 vs 2.82), eats less (0.64 vs 0.8), carries slightly less (56 vs 65), and has slightly more puppies per litter (1.937 vs 1.721).
They also produce less meat (105 vs 120) and leather (33 vs 36) when slaughtered. You monster.
Dogs are the only omnivorous animals that require neither a pen nor taming upkeep. Having no wildness, they also do not generate filth indoors. Feeding them with meals, kibble, or raider corpses can thus require zero labor from colonists: simply zone them to go into the appropriate stockpiles and eat directly.
Training
This animal can be trained as follows:
| | |
| --- | --- |
| Guard: |   |
| Attack: |   |
| Rescue: |   |
| Haul: |   |
*As of version 1.1.2610, all animals can be tamed. The percentage of likelihood of success depends on factors such as the Animals Wildness Percentage, Pawn Handling Skill, and others. More information can be found on the animals page.
Health
Body part
Health
Head
25
Skull
25
Brain
10
Nose
10
Neck
25
Jaw
20
Eye [1]
(left, right)
10
Ear
(left, right)
10
Body
40
Kidney[2]
(left, right)
15
Lung[2]
(left, right)
15
Liver[2]
20
Heart[2]
15
Spine[2]
25
Stomach[2]
20

Limbs


(left, right, fore, hind)
30

Appendage


(left, right, fore, hind)
20
Version history
---