Elephant
Jump to navigation
Jump to search
Elephant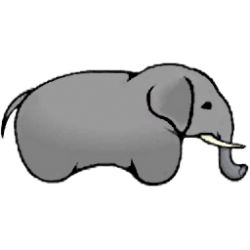 The largest unmodified land animal. Elephants has a long trunk they use to manipulate objects, and sharp tusks they use to gore attackers. A dead elephant's valuable tusks can be recovered by butchering it.
Intelligent creatures with complex social relationships, elephants can be used as pack animals or trained to carry out the most complex of tasks. They live a long time, and are known to remember events and relationships from many decades before
---
Base Stats
Animal Stats
Move Speed

4.8

Mass - Young

56 kg

Mass - Juvenile

140 kg

Mass - Adult

280 kg

Health Scale

3.6

Body Size

4.0

Carrying Capacity

300

Filth Rate

5

Hunger Rate

3.2

Diet

herbivorous

Life Expectancy

50

Manhunter Chance

10%

Manhunter Chance (Taming)

10%

Trainable Intelligence

advanced

Wildness

75%

Minimum Handling Skill

7

Nuzzle Interval

1 day

Maturity Age

2.0 years

Comfortable Temp Range

-12°C - 50°C
Production
Meat Yield

360 elephant meat

Leather Yield

120 elephant leather

Gestation Period

48 days

Offspring Per Birth

1
Melee Combat
Attack

tusks
23 dmg (scratch)
34% AP
145 ticks (

2.42 secs)

Average DPS

5.9



Elephants are large land animals often found in arid shrublands and tropical rainforests. They have two Elephant tusks which are highly priced in the ivory market and can be butchered for trade. Elephants can be brought on caravans as pack animals, they can carry 140kg of weight.
Training
This animal can be trained as follows:
| | |
| --- | --- |
| Guard: |   |
| Attack: |   |
| Rescue: |   |
| Haul: |   |
*As of version 1.1.2610, all animals can be tamed. The percentage of likelihood of success depends on factors such as the Animals Wildness Percentage, Pawn Handling Skill, and others. More information can be found on the Animals#Animal_husbandry page.
Health
Body part
Health
Head
90
Skull
90
Brain
36
Nose
36
Neck
90
Jaw
72
Eye [1]
(left, right)
36
Ear
(left, right)
36
Body
144
Kidney[2]
(left, right)
54
Lung[2]
(left, right)
54
Liver[2]
72
Heart[2]
54
Spine[2]
90
Stomach[2]
72

Limbs


(left, right, fore, hind)
108

Appendage


(left, right, fore, hind)
72
Version history
---