Elk
Jump to navigation
Jump to search
Elk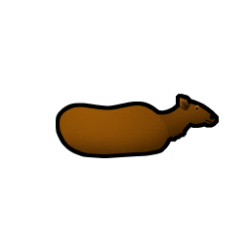 A large member of the deer family, well-adapted to life in cold climates. Domesticated elk can be milked, but refuse to carry packs.
Base Stats
Type

Flammability

70%
Pawn Stats
Move Speed

5 c/s

Health Scale

1.9

Body Size

2.1

Mass - Baby

25.2 kg

Mass - Juvenile

63 kg

Mass - Adult

126 kg

Carrying Capacity

158 kg

Filth Rate

16

Hunger Rate

0.86 Nutrition/Day

Diet

herbivorous

Life Expectancy

18 years

Manhunter Chance

0%

Manhunter Chance (Taming)

0%

Trainable Intelligence

none

Wildness

75%

Minimum Handling Skill

7

Roam Interval

2 days

Mate Interval

12 hours

Maturity Age

0.333 years (20 days)

Juvenile Age

0.2 years (12 days)

Comfortable Temp Range

-50 °C – 40 °C (-58 °F – 104 °F)
Production
Meat Yield

294 elk meat

Leather Yield

84 plainleather

Milk Amount

11 milk

Milking Interval

1 days

Gestation Period

6.66 days

Offspring Per Birth

1
Melee Combat
Attack 1

front left leg
10 dmg (Blunt)
15% AP
2 second cooldown

Attack 2

front left leg
10 dmg (Poke)
15% AP
2 second cooldown

Attack 3

front right leg
10 dmg (Blunt)
15% AP
2 second cooldown

Attack 4

front right leg
10 dmg (Poke)
15% AP
2 second cooldown

Attack 5

teeth
10 dmg (Bite)
15% AP
2 second cooldown

Attack 6

head
13 dmg (Blunt)
19% AP
2.6 second cooldown

Average DPS

3.1
Technical
tradeTags

AnimalFarm, AnimalCommon
Elk are a large species of herbivore that appear in herds. They have a muffalo's tolerance to subzero temperatures so they are quite comfortable living in the cold boreal forest, tundra, and cold bog biomes.
Male and female elk can be distinguished by the presence or lack of antlers, respectively.
Production
[
edit
]
Female elk can be milked once every 1 days, producing 11 milk.
Summary
[
edit
]
Elk are pen animals. Once tamed, pen animals cannot and do not need to be trained any further. But if left outside of a pen or caravan hitching spot, pen animals will eventually roam outside your colony. Making a caravan is not required to tie animals to a caravan hitching spot.
A female elk can be milked for up to

11 units of milk per day (depending on your pawn's Animal Gather Yield).
Analysis
[
edit
]
Elk's meat, leather, and milk yields and their hunger rate are identical to that of the yak. However, compared to the yak, elk are wilder and cannot carry cargo, making them strictly inferior to yaks as tamable animals. If you don't need to caravan out, they are mostly identical if tamed.
Milking
[
edit
]
Female elk produce

11 per day, or 0.55 nutrition in milk per day. A elk consumes 0.86 nutrition per day. This results in a nutrition efficiency of 64% from milk alone (or

12.79 per day per 1 nutrition consumed). They are better for milk than dromedaries or caribou.
Training
[
edit
]
This animal can be trained as follows:
| | |
| --- | --- |
| Guard: |   |
| Attack: |   |
| Rescue: |   |
| Haul: |   |
*As of version 1.1.2610, all animals can be tamed. The percentage of likelihood of success depends on factors such as the Animals Wildness Percentage, Pawn Handling Skill, and others. More information can be found on the animals page.
Body part
Health
Head
48
Skull
48
Brain
19
Nose
19
Neck
48
Jaw
38
Eye [1]
(left, right)
19
Ear
(left, right)
19
Body
76
Kidney[2]
(left, right)
29
Lung[2]
(left, right)
29
Liver[2]
38
Heart[2]
29
Spine[2]
48
Stomach[2]
38

Limbs


(left, right, fore, hind)
57

Appendage


(left, right, fore, hind)
38
Version history
[
edit
]
Gallery
[
edit
]
---