Subcore encoder
Jump to navigation
Jump to search
| | |
| --- | --- |
| | This article relates to content added by Biotech (DLC). Please note that it will not be present without the DLC enabled. |
| | |
| --- | --- |
| | This article is a stub. You can help RimWorld Wiki by expanding it. Reason: General. Attempt parity with other Subcore buildings (most important) and other production buildings (mid important). |
Subcore encoder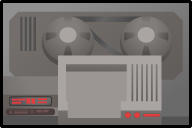 A work station where a mechanitor can produce basic-tier subcores. Subcores are the brains of mechanoids, and one is required to produce any mechanoid. Basic subcores can only be used in simple basic-tier mechs.
Higher tier subcores can be created by building a subcore softscanner or a subcore ripscanner.
Base Stats
Building
Size

3 * 2

Passability

PassThroughOnly

Cover Effectiveness

30%

Power

-50 W
Creation
Required Research

Skill Required

Work To Make

8,000 ticks (2.22 mins)



The subcore encoder is a building added by the Biotech DLC that allows for the creation of basic subcores.
Acquisition
Subcore encoder can be constructed once the Basic mechtech research project has been completed. They require

 100 Steel,
 3 Component, 8,000 ticks (2.22 mins) of work, and a Construction skill of 4.
Summary
The subcore encoder takes 150 W of power. Its only purpose is to form a basic subcore, an ingredient used for the gestation of the following mechanoids:
A basic subcore requires ?? to create.
Summary
?
Analysis
? The subcore encoder can be obtained either by starting your save as a Mechanitor or by unlocking the Basic Mechtech research. The encoder can always be built by a constructoid but will require a pawn with high enough construction skill if one is not available.
Version history