Piano
Jump to navigation
Jump to search
| | |
| --- | --- |
| | This information relates to content added by the Royalty DLC. Please note that it will not be present without the DLC enabled. |
Piano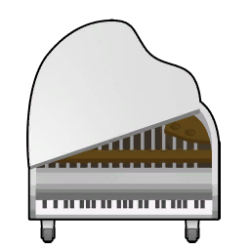 An advanced stationary musical instrument. It is played by pressing a row of keys, which causes hammers to strike internal strings stretched over a steel frame. The hammer mechanism and high-tension strings allow the musician to play both very soft and very loud, making the piano a very expressive instrument.
It can be crafted at a smithy.
---
Type

Placeable

Yes

Size

3 ˣ 3

HP

180

Beauty

18

Mass

2 kg

Flammability

0%

Cover Effectiveness

0%

Work To Make

15,000 ticks (

4.17 mins)



A piano is a source of High Culture recreation and is a requirement for specific titles.
Pawns will sometimes give concerts.
Anyone listening to or playing the piano receives a +6 thought.
Version History
---
---