Defoliator
Jump to navigation
Jump to search
| | |
| --- | --- |
| | This article relates to content added by Royalty (DLC). Please note that it will not be present without the DLC enabled. |
Defoliator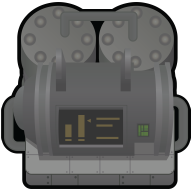 An area-denial device which annihilates nearby plants without affecting animals.
In planetary wars, these weapons are scattered across farmlands or jungles to deny the enemy food or cover. They're usually associated with orbital-drop mechanoid swarms.
Base Stats
Type

Beauty

-200

HP

400

Flammability

0%

Path Cost

50
Building
Defoliators are mechanoid cluster problem causers that kill all plants in a slowly-growing area.
Summary
[
edit
]
Defoliators are mostly equivalent to the defoliator ship. They will destroy all plant life in its radius, including anima trees, gauranlen trees
, and polux trees
. When it kills a cultivated plant, defoliation will be mentioned as "poison". Unlike the crashed ship part, the defoliator will not create pollution.
This building can affect up to a 100 tile radius from its the bottom-left corner. The affected radius rapidly expands to 18 tiles in 1.5 days, then expands to 40 tiles after 6 total days, before reaching the final size of 100 tiles after 20 total days.
Upon being destroyed, a defoliator explodes with EMP damage in a 9 tile radius after 240 ticks (4 secs).
Analysis
[
edit
]
If a defoliator spawns far away from any of your crops or special trees, then it can be safely ignored indefinitely, or at least for a while. Even if it would poison your crop fields, it often takes a long time before the poison radius is actually large enough to start killing relevant plants. Thus, unless it spawns very close to your base, it is one of the less urgent condition causers.