Vitals monitor
Jump to navigation
Jump to search
Vitals monitor
Increases medical tend quality, surgery success chance, and immunity gain speed when placed directly adjacent to a hospital bed. Only works for hospital beds - normal beds will not benefit. Attaching more than one vitals monitor to the same bed will have no effect.
---
Type

Placeable

Yes

Size

1 ˣ 1

HP

100

Mass

20 kg

Flammability

100%

Power

-80W

Cover Effectiveness

40%

Resources to make

50 + 3

Deconstruct yield

37 + 2




A vitals monitor can be attached to a hospital bed. It increases the medical treatment quality by 7%, the patient's immunity gain speed by 2% and the surgery success rate by 5%. These effects stack with the doctor's base healing quality and medicine usage, the patient's own immunity gain speed and the effects of a hospital bed.
A bed can benefit from at most one vitals monitor; placing additional monitors in range has no effect.
The device covers all tiles immediately surrounding it (8 tiles). This makes it possible to link one vitals monitor to up to 8 beds, using the layout shown below.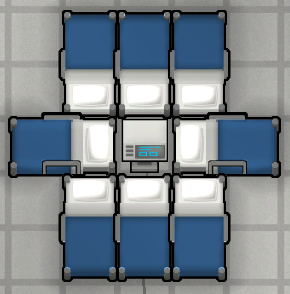 ---