Shuttle
Jump to navigation
Jump to search
| | |
| --- | --- |
| | This information relates to content added by the Royalty DLC. Please note that it will not be present without the DLC enabled. |
Shuttle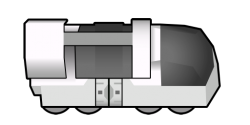 A spacer-tech shuttle designed for transit between surface and orbit, or between moons of a planetary system.
---
Type

Placeable

yes

Size

5 ˣ 3

HP

1000

Flammability

100%

Deconstruct yield

100 + 35 + 4 + 4 Slag



Found at Empire faction bases (though it will rapidly fly away it is possible to kill it), used in quests and called by the Call Shuttle permit.
When killed it drops

100 +
35 +
4 + 4 steel slag.
If there is a functional landing pad, set out with 4 Ship landing beacons placed in at least a 9x9 area, shuttles will attempt to land on that pad. It is unclear if this also applies to crashed shuttles.
Version History