Brewery
Jump to navigation
Jump to search
Brewery
A work station with all the equipment needed to mix wort for beer production. Wort must be fermented to finally become beer.
Base Stats
Type

Mass

20 kg

HP

180

Flammability

100%

Path Cost

50
Building
Size

3 ˣ 1

Minifiable

True

Placeable

True

Passability

pass through only

Cover Effectiveness

50%

Terrain Affordance

Medium
Creation
Required Research

Work To Make

2,000 ticks (33.33 secs)



The brewery is used by a colonist with the cooking skill enabled to produce wort, a precursor to beer.
Acquisition
It is built with


120 Wood,

30 Steel in 2,000 ticks (33.33 secs) after the research Beer brewing has been completed.
Analysis
The brewery is the second stage on the path to creating beer! After harvesting hops, cooks will take 25 hops to the brewery and make 5 wort. Wort will then be brought by haulers to a fermenting barrel where they will ferment and turn into beer.
Breweries are similar to stoves in that you add bills to the brewery and they both are worked at by cooks.
Outside of making wort (and eventually beer) breweries serve no purpose.
Strategy
A simple strategy to maximize the amount of wort created is to create a stockpile nearby assigned only to hops. Since hops take 30 days to rot (under a roof) it should give your colonists more than enough time to convert it into wort. This allows your cooks to spend more time at the brewery and less time walking.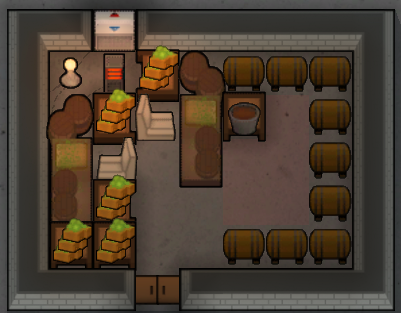 Version History
---